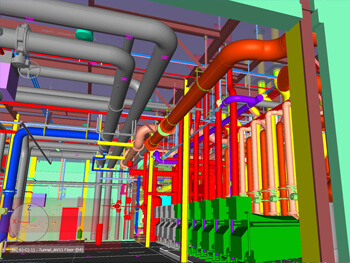 At University Mechanical Engineering Contractors (UMEC-CA), we are always searching for ways to make our service offerings more efficient. That's why we were one of the earliest adopters of building information modeling (BIM) in the country.
Employing more than thirty fully trained detailers and modelers—and with access to more than two hundred mechanical and plumbing detailers through our parent company EMCOR Group — UMEC-CA has the resources to manage any large-scale BIM project.
Success Through Collaboration
At our dedicated coordination facility, we offer our 700-square-foot BIM coordination room to any of our clients in order to assist them in their project needs. Owners, architects, engineers, construction managers, and other subcontractors can collaborate on the BIM strategy and develop the integrated graphics and data systems needed to analyze the facility through 3D visualization.
This process allows us to: